Michelin

Pilot Sport 5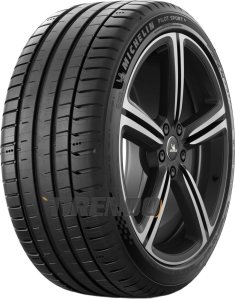 Michelin Pilot Sport 5 doesn't need particular introductions: it's in fact the fifth generation of a very famous tyre by Michelin.
This is a summer tyre perfect for powerful cars, and in comparison to the "predecessor", or rather Michelin Pilot Sport 4, it has important plusses.
Main technical features
First of all, is very interesting the so-called Dynamic Response technology, that makes very sporty and reactive the driving experience.
Is also very important the MaxTouch Construction technology, thanks to which the tyre can equally distribute acceleration and braking powers.
This summer tyre is created with a particular layout: the inner side has large grooves that improve the grip on wet roads, the external side instead is useful for driving on dry roads.
Michelin Pilot Sport 5 deserves to be considered a very special tyre also for its durability, and by using the innovative Wear2check indicator is possible to check effectively the usury lever of the tyre, and this is very important for performance and security; the high durability of this tyre is also precious for the environment.
Customers' opinions and price
Michelin Pilot Sport 5 is a very young product, so is impossible to find a lot of reviews about it; however, the opinions about this tyre are absolutely good and customers confirm all technical features we have talked about.
This tyre has achieved important outcomes in some official tests, for example the one by Tyre Reviews about summer tyres, in which it got the first place.
This is not a cheap tyre, but the value of money is absolutely good.
Prices of Michelin Pilot Sport 5:
Search your size!
Michelin Pilot Sport 5 tyre sizes:
Rime 17"
Rime 18"
Rime 19"
Rime 20"
Rime 21"