Bridgestone

Turanza T005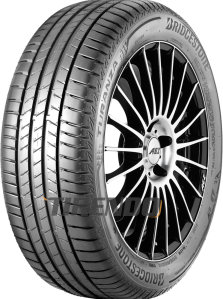 Bridgestone Turanza T005 is the "successor" of Bridgestone Turanza T001 and is a performing summer tyre for cars.
Entirely developed and made in Europe, this tyre ensures durabilty, low consumption and a comfortable driving experience.
The Run Flat tecnology
A very interesting feature of Bridgestone Turanza T005 is Run Flat technology: thanks to it, the car can continue its road for many kilometers after a drilling.
It may be extremely useful: after a drilling, in fact, you can reach your home or your tyre repairer, and this is important not only for comfort, but also for security, because you have not to replace the drilled tyre on the road or in other dangerous places.
Other technical features
The Run Flat technology of Bridgestone Turanza T005 allows you to drive for a good 80 kilometers after a drilling, at the maximum speed of 80 km/h.
This summer tyre also has a particular geometric and angular sculpting, thanks to which it can effectively eject the water when you are driving on wet roads, and this is very important to avoid the aquaplaning.
Bridgestone Turanza T005 are very strong and resistant to deformation, moreover the low rolling resistance reduces consumption, and this is important for the environment, too.
Official tests and price
Bridgestone Turanza T005 has been tested by an important italian automotive magazine, AlVolante, and the outcome has been very good.
The price is very interesting, and is lower than the average of summer tyres.
Test results obtained by Bridgestone Turanza T005:
2023
4° Place
Good
2023
3° Place

2023
3° Place
Highly recommended
2022
2° Place
Good
2022
2° Place
Very recommended
2022
2° Place
Molto buono
2022
1° Place
Highly recommended
2022
1° Place

2022
2° Place

2022
4° Place
Recommended
2022
2° Place
Very recommended
2021
3° Place
Good
Bridgestone Turanza T005 tyre sizes:
Rime 14"
Rime 15"
Rime 16"
Rime 17"
Rime 18"
Rime 19"
Rime 20"
Rime 21"
Others summer Bridgestone tyres: