Continental

SportContact 7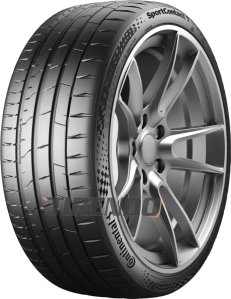 Continental SportContact 7 is a summer tyre and is perfect for sporty driving; it's available in many different sizes and is perfect for powerful cars.
This is the seventh generation of a famous tyre by Continental, exactly SportContact, and it ensures both high performance and a good efficiency.
Main technical feature
SportContact 7 shows an elegant and nice design, and the most important technical feature is the special mix of materials: the inner side is created by BlackChili3 compound, that is very soft, the external side has instead a stiff outrider.
Tests and reviews
The good quality of Continental SportContact 7 has been confirmed by some official tests, and the most meaningful is the one by the automotive magazine Auto Motor Sport: this summer tyre got the first place and has been defined "Exceptional".
The reviews written by motorists are very good, too, and they are absolutely satisfied, both for performances and for value of money, although the price is higher than the average.
Test results obtained by Continental SportContact 7:
2023
1° Place
Molto buono
2023
1° Place
Winning
2023
1° Place
Excellent
2023
1° Place
Excellent
2022
1° Place
Excellent
2022
2° Place
Very good
2022
1° Place
Winning
Continental SportContact 7 tyre sizes:
Rime 18"
Rime 19"
Rime 20"
Rime 21"
Rime 22"
Rime 23"
Others summer Continental tyres: