Continental

All Season Contact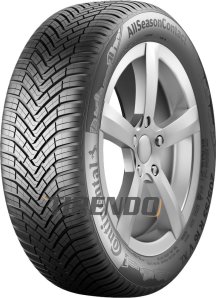 Continental All Season Contact is an All-Season tyre, so you can use it in any time of the year; it's also available in many different sizes, so is successfully installable in a lot of cars.
This tyre has the marks 3PMSN, 3 Peak Mountain Snow Flake, and M+S, Mud+Snow, so is an absolutely a certainty for winter driving.
Main technical features
All Season Contact is created in a special performance resin that guarantees a good grip on every kind of roads, from dry to wet.
Another important technical feature is the particular pattern of the tread, useful to make more easy handling the drive and to avoid the aquaplaning, or rather the main risk in the drive on wet roads.
Continental All Season Contact also ensures a low rolling resistance, and this is important both to reduce consumption and for the environment; furthermore, this feature increases the durability of the tyre.
Reviews and price
The good technical features of this tyre have been confirmed in many reviews written by motorist who have already chosen this product for their cars.
They also appreciate the price, so the value of money is another strength.
Test results obtained by Continental All Season Contact:
2022
2° Place
Recommended
2022
13° Place
Satisfactory
2022
2° Place

2022
1° Place
Molto buono
2022
4° Place
Recommended
2021
1° Place
Winning
2021
7° Place
Satisfactory
2021
3° Place

2020
1° Place
Acceptable
2020
1° Place
Raccomandato con riserva
2020
3° Place
Very good
2020
2° Place
Good
Continental All Season Contact tyre sizes:
Rime 14"
Rime 15"
Rime 16"
Rime 17"
Rime 18"
Rime 19"
Rime 20"
Others all season Continental tyres: